Yesterday I was back on my plot for a few hours, managed to do some more digging, and took a few pictures for this site. Most allotmenteers would agree that digging is hard work - and I'm no different. I am, however, stange enough to find the work quite enjoyable!
I'll go in to details of the digging technique I use in a post later this week. I have been taught about this technique from one of my tutors at college - who has been digging over more plots than I care to think about - and hope it will pay off. It is a long term thing though. Let's just say it's rather labour intensive - and requires a LOT of organic matter.
The good thing about it is that a lot of other plotholders have seen me wheel in barrow-loads of horse manure, noticed the goodness of it, and asked me how to get some. Rather than sending them all down to the riding school where I pick it up - I've arranged with the owner to deliver 10 tonnes to our site in the next few weeks - so everyone is happy, and I'll save a lot of time myself.
Last week I told you about my spring cleaning - and this week I took a couple of pictures of my plot. If you want to see what has happened since last year you can look here.
The first thing you will notice is that the plot is now virtually clean off couch grass, thanks to the RoundUp treatments last year, so hopefully I'll manage without using too much weedkiller this year. I do like the idea of doing things organically, but I must admit there's time issues!
Also the vast mojority of the rubbish has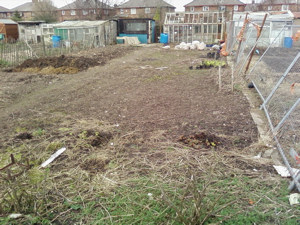 been moved away or burned. There's still enough work to be done, but my priority is to get things ready for sowing ASAP, so that will have to wait.
On both pictures you can see the amount of digging I have been doing. Still a long way to go, but I'm confident I'll have the whole plot dug over before the end of april, so I should be OK.
The binbags you can see in front of the greenhouse, or what is left of it, is the leaves I collected in autumn. My worms will be munching their way through them in the coming months!
Speaking of my worms - they seem to be doing quite well - settling in to the wormery. Activity is starting to increase as the temperatures pick up, and I'm already planning to start up another one or two wormeries on my plot over the next month or so. I really do like to do my bit for the environmet by recycling household waste and turning it into the best feed for my plants that money can buy! Great stuff!
Enough of my rambling for now! As promised I'll be back later in the week with an article on how to dig over your allotment, and if anything else happens I'll let you know……
Posted in General, Karstens Plot |