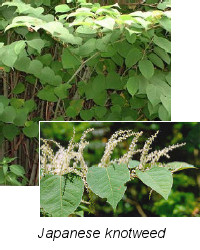 Japanese knotweed (Polygonum Cuspidatum) is to gardeners what MRSA is to hospitals - a super-weed!
It was introduced to the UK in Victorian times, used as a "stabiliser" of the banks around newly established lakes (due to its massive roots), but lacking the control provided by its native "natural enemies" soon spread across the country, mainly along railway embankments and onto abandoned/derelict pieces of land.
Japanese knotweed is very rare on allotment sites - though I've seen some grow right "next door" to ours - but if you come across it on your site you should get in touch with your local council ASAP. This is due to the nature of the plant, which will spread through its root network as well as through bits of plant material distributed to other areas.
Under the wildlife and countryside act 1981 it's an offence to grow japanese knotweed in the wild, and disposal of any parts of the plant and/or any of its root system must be done to a licenced landfill site (Environmental Protection Act 1990), as it is classed as "controlled waste".
Cultural control
Treating Japanese knotweed organically is a "mission impossible" for a number of reasons. The rhizomes of the root system can penetrate to a depth of 6 feet underground - and the plant will re-shoot from even the smallest rhizome left behind. Also, there's the waste problem to take into account.
Chemical control
Glophosate based weedkillers seems to be the best weapon against Japanese knotweed. Ideally an application should be made in early autumn before the plant dies back for winter. This can, however, be a difficult task because the plant can grow to 2.1m (7 feet) or more over a season, and growth is quite thick as well, so access can be difficult.
Another method is to let the plant grow to a height of about 0.90m (3 feet) in spring, and then apply the weedkiller! A second and third application in a season, when new shoots have reached a height of 3 feet, is not uncommon.
Using this method should kill the plant off in 3-4 years. This period can be cut in half though, if a specialist contractor with access to stronger formulated weedkiller treats the plants.
Technorati Tags: Allotment, Weeds, Japanese Knotweed