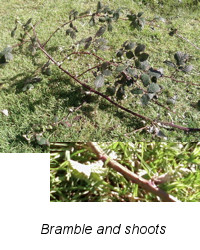 The second contender in our countdown of allotmenteer enemies is the omnipresent bramble (Rubus fruticosus).
This nuisance perennial weed spread in two ways - through its root network or by layering new shoots from its long stems - and doesn't represent much of a problem if you have got one or two of them on your plot.
If, however, you have inherited an overgrown plot with brambles on it - you're in for a bit of a fight, as they can soon take over un-controlled areas.
Not all allotmenteers wager war on the bramble though - some even grow them near the perimeter of their plots - mainly due to its excellent anti-intruder qualities. Also its berries are excellent for making jam and attracting wildlife.
Cultural control
The bramble isn't too hard to remove by hand if you have got one or two of them. The real problem arise if they have been allowed to spread.
Start out by cutting all stems back to the roots - and dispose of them - preferably by burning them. Then - using a fork - try to lift the entire rootball. Do not use a spade for this, as the bramble will re-shoot from any roots cut through by the blade. Again - get rid of the roots - either by burning or throwing them on a skip.
Chemical control
When going down the chemical route - you still have to cut back all stems - and dispose of them. This is to prevent the bramble to continue layering itself while the chemicals do their work - and to limit your use of the chemicals to a small area.
Once cut back - treat new growth as and when it emerges. While a glyphosate based weedkiller like roundup will do the job (usually requires more than one-two treatments), other weedkillers (brushwood type) are more efficient. The advantages with using the glyphosate based weedkillers is that they are readily available and that they don't leave residues in the soil. The brushwood weedkillers are harder to get hold of - and will linger in the soil for around 6-8 weeks.