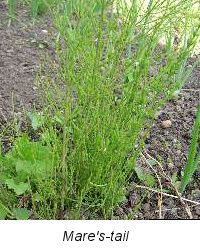 Horsetail (Equisetum arvense) - also known as mare's tail - is one of the allotmenteers (or gardeners in general) worst nightmares.
It's a quite common weed to be found on a lot of plots - seemingly one that you have to learn to live with - since it's more than difficult to eradicate.
The well known TV gardener, Alan Titchmarsh, once said something like: "If you find horsetail in your garden, and you want a garden without horsetail, move house!" Enough said.
Horsetail mainly spread through its creeping underground rhizomes, which can go down as far as 1.5 metres. The growth starts out in spring as asparagus-like shoots, and later in the season develops into fir-tree like plants as shown on the picture. The top growth dies back in winter.
Cultural control
The rhizomes can be forked out of the top layers of soil, but regrowth is inevitable. Shallow weeding should be avoided, as it worsens the problem.
By regularly removing new shoots as soon as they appear above ground, the plants seem to weaken, and infestation can be reduced quite a lot over a couple of seasons.
Chemical control
Horsetail is resistant to most weedkillers - at least those that can be used anywhere near other plants and produce. This is due to the plants having an outer cuticle that protects it against penetration.
Some success can be achieved by using a systemic glyphosate based weedkiller like roundup in late summer when the plant is growing fast. Before application of the weedkiller - run a rake across the patch you want to treat - or trample down the plants, in order to break the protective cuticle on them.
Any new growth after the first application should be treated promptly - and further treatments later in the season - or early in the next season may well be required.